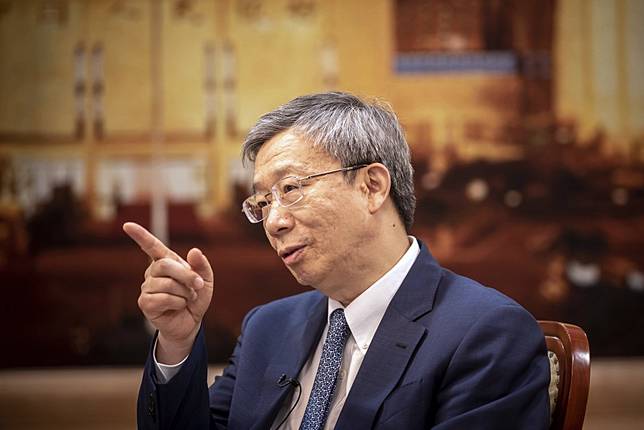 China's interest rates are at an "appropriate" level, according to central bank governor Yi Gang, a strong suggestion that Beijing is unlikely to follow the US Federal Reserve in making an expected rate cut later this month.
Yi pointed to the fact that China did not follow the US Federal Reserve in raising interest rates last year, and that the People's Bank of China (PBOC) will look at its own domestic situation regardless of any moves made by the United States in cutting benchmark rates.
"Our current interest rate levels are appropriate. A cut in interest rates is mainly intended to address deflation risks, but China is seeing a modest inflation," Yi told Chinese magazine Caixin.
The current levels of Chinese interest rates are close to "a golden level, or a comfortable level", he added, with China having not changed its benchmark loan and deposit rates since October 2015.
Our current interest rate levels are appropriate. A cut in interest rates is mainly intended to address deflation risks, but China is seeing a modest inflationYi Gang
The US Federal Reserve is widely expected to announce a 0.25 percentage point interest rate cut next week.
Yi noted that China's headline consumer price index had hit 2.7 per cent in May and June due to the effect of African swine fever epidemic in boosting pork prices.
It is expected that Beijing will enact additional fiscal and monetary stimulus later this year, including a possible interest rate cut, to support economic growth after China reported that its second quarter gross domestic product growth rate slowed to 6.2 per cent, the lowest since records began in 1992.
The Politburo, China's 25-member top leadership group, is expected to meet before the end of July to discuss the current economic situation and may announce some policy changes, however, many analysts believe the government will wait until later in the year if growth continues to slow.
The one-year benchmark lending rate is currently set at 4.35 per cent, while the one-year deposit benchmark rate is set at 1.5 per cent.
The benchmark interest rates, which have remained unchanged for four years, are now used less often to set other interest rates given their growing deviation from actual market rates, putting pressure on the Chinese central bank to push forward reform of the country's interest rate structure.
Official data shows that market interest rates have been trending down since last year, part of government's plan to reduce the cost of credit for small, private sector businesses. The 7-day interbank bond collateral repo rate was down 45 basis points from a year earlier to 2.56 per cent at the end of June, the yield on 10-year treasury bonds have declined by 25 basis points to 3.23 per cent over the period, while the actual lending rate to corporations dropped by 17 basis points to an average of 5.34 per cent during May.
Yi mentioned that the central bank will prioritise the reform of the benchmark lending rate mechanism to lower financing costs, while the benchmark deposit rate will be kept for some time prevent disorderly competition for depositors.
The benchmark lending rate will be replaced by a loan prime rate, which will be the average rate that the 10 largest Chinese charge their most creditworthy clients, Yi said. The loan prime rate will be linked in some way to market interest rates like the rate on the central bank's medium-term lending facility (MLF), the governor said.
On Tuesday, the central bank sold 200 billion yuan of one-year MLF paper to banks at 3.3 per cent. The current one-year loan prime rate is about 4.31 per cent.
Large commercial banks used to offer a 10 per cent discount on the benchmark lending rate to VIP clients and that ratel was widely regarded as a floor for bank lending rates.
"Now we plan to break through the floor by introducing more competition," Yi said. "Large enterprises can turn more to bond sales, while large banks can explore providing more credit to small and medium-sized enterprises."
Yi added that China is trying to lower the interest rates on loans to small businesses, with the PBOC having already enacted several targeted cuts in the amount of reserves that small banks are required to keep at the central bank in an attempt to boost lending to the smaller firms.
Ting Lu, chief China economist at securities firm Nomura, said earlier this month that China is unlikely to change its benchmark of deposit and lending rates, but that the central bank would try to lower interest rate levels in the interbank market.
Additional reporting by Cissy Zhou
Copyright (c) 2019. South China Morning Post Publishers Ltd. All rights reserved.
Artikel Asli